Viagra and Cialis for Patients with Special Health Care Needs: Safety Precautions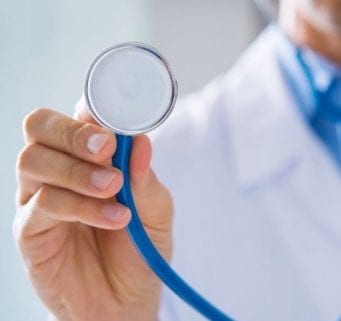 The most popular ED medications worldwide, Cialis and Viagra, pose high safety profile, however, their use in some categories of patients (who have special healthcare needs which include any impairment or limiting condition) may require great caution and may even be prohibited.
A Few Words About Viagra and Cialis
The physiological mechanism of erection is associated with releasing nitric oxide (NO formula) in the cavernous body during sexual stimulation caused by any stimuli (visual, physical, etc.). This, in turn, leads to an elevation in the rate of cGMP (cyclic guanosine monophosphate), the subsequent relaxation of the smooth muscle tissue of the penile cavernous bodies and an increase in blood flow to this organ.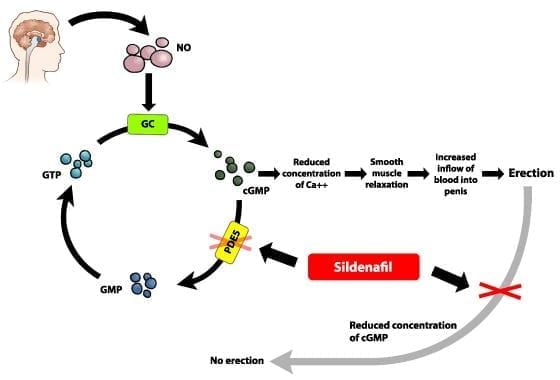 The active components of Viagra and Cialis (sildenafil and tadalafil, respectively) do not have a direct relaxing effect on the isolated cavernous body, but they enhance the effect of NO, which is a fully natural erection booster, by inhibiting the enzyme PDE5 (type 5 phosphodiesterase), which leads to the breakdown of cGMP. These medications are not addictive and do not affect the quality of sperm. They act locally and specifically, however, the active components of these drugs enter the bloodstream and, accordingly, the whole body, so minor systemic effects are possible. So, in case of some diseases, these effects may be undesirable and even non-safe.
Cardiovascular Diseases and ED Medicines: When Is Their Use Potentially Hazardous?
Cialis or Viagra should desirably be avoided by patients who suffer from:
active coronary ischemia
congestive heart failure
decreased arterial pressure
complicated hypertension which is treated with multidrug therapy regimens
These medications may also be contraindicated if a patient:
has or has had other heart problems
has had surgical operation on the heart within the last 6-month period
has had a stroke, especially within a half of a year
In addition, steer clear of ED medications if you are concurrently taking organic nitrates. This group of medicines includes glyceryl trinitrate (GTN), isosorbide dinitrate and isosorbide mononitrate. GTN, also called nitroglycerin, is the most popular one. This is a widely-used medication whose purpose is to treat heart failure, hypertension, and anal fissures. It is marked under a bunch of brands, in particular, in the US, nitroglycerin is sold as Gonitro (by Pohl Boskamp), Minitran (Medicis), and Nitrolingual (Pohl Boskamp).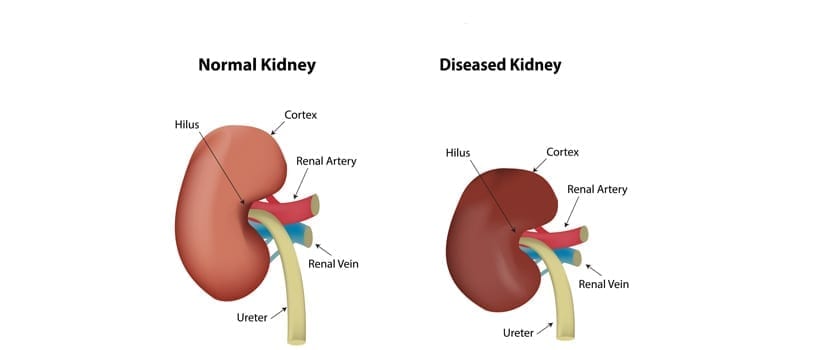 Renal Failure
More than 30% of patients with erectile dysfunction associated or coexisted with renal failure are at a sexually active age. As many clinicians point out, this circumstance makes this problem particularly relevant and noteworthy.
With mild to moderate degree of renal failure, the pharmacokinetic properties of sildenafil after a single oral dose of 50 mg do not change. In severe renal failure, clearance (an indicator of the rate of cleansing of biological fluids and body tissues from the active substance) of sildenafil or tadalafil decreases, which leads to an approximately twofold increase in the maximum content of the active substance in blood plasma compared with normal kidney function in gentlemen of the same age group. Therefore, with severe renal dysfunction, the doctor may decide to prescribe a minimum dosage of Viagra or a very low dosage of Cialis, since this action will be doubled due to a deterioration in the processing of active substances by the kidneys of the body.
Cirrhosis and Other Hepatic Diseases
Since the excretion of the active components of remedies for handling erectile disorders is impaired in patients with liver damage (in particular, cirrhosis, which is an irreversible substitution of healthy functioning liver tissue for non-functioning connective tissue), the dose of Viagra should be reduced to a minimum (25 mg), as in the case of renal failure. This is due to the fact that with liver diseases, the clearance of any drugs decreases, and their half-life increases significantly due to a decrease in their extraction with hepatocytes.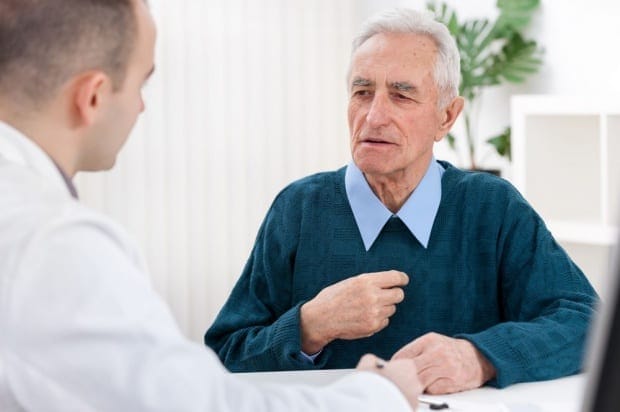 Use of Cialis and Viagra in Geriatry
Appropriate clinical studies have shown no limitations regarding effectiveness and usefulness of these two pharmaceuticals in patients of old age. Nevertheless, the elderly are at extended risk of many diseases, including cardiovascular, kidney, and liver ones. Such diseases may lead to the surge in action of sildenafil / tadalafil in the body, hence dosage adjustments might be required. Given these considerations, adults over 65 years old should always start ED therapy with minimal dosages, say 25mg of Viagra.
Intimacy may be contraindicated for some male patients. In particular, coronary artery disease (CAD in short) may be an insurmountable barrier for taking Viagra and Cialis. To determine the possibility of taking an anti-ED pharmaceutical by a male patient, doctors may assign him a near-maximal exercise treadmill test. As stated by Melvin D. Cheitlin, Adolph M. Hutter Jr et al. (1999, Circulation Vol. 99, No. 1), this test can help to gauge a possible stress to heart caused by sexual intercourse. If treadmill exercising shows dangerous signs electrocardiographically, then sex is simply contraindicated for the patient, and therefore he should not take erectile dysfunction pills.
Conclusions
So, if you suffer from any diseases noted above or from any disease at all, you need to be careful when taking the 'blue pill' or 'yellow pill'. The tradeoff is, the milder the dosage of your medication, the fewer the potential side effects. Many coexisting diseases require consulting a healthcare professional before initiating an anti-ED treatment. In case of older male patients, the ED pills may often be unsuitable due to possibly dangerous interactions with other medicines and concurrent diseases that may make sexual activity unsafe or interfere with normal absorption and metabolism of active agents contained in impotence remedies.
Here's an article which may be also an object of your interest: Is Viagra a Blood Thinner? Interactions with Anticoagulant Medicines